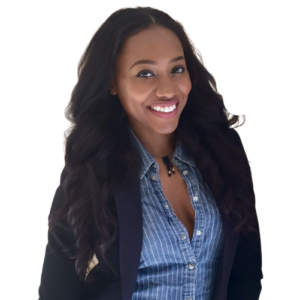 Apryl J. Clay brings over 10 years of experience in strategic communications, brand identification/management, event management and investor/consumer targeting for iconic clients in both corporate and entertainment spaces.  She specializes in the finance, real estate, culinary, travel, music, and sports industries.
Prior to founding Solved, Apryl has been fortunate to grow professionally with some of the world's top management consulting and financial management firms.  She has combined that deep industry knowledge with technical expertise to help enable clients who are facing transformational change to identify, protect, and create their value.  She most recently consulted for a New-York-based investor relations consulting firm where she oversaw the event-management product for the firm, executing successful product launches and quarterly investor events for clients including Arcos Dorados Holdings (The World's largest McDonald's franchisee), Marfrig Group (Second largest beef producer in the world), and Genomma Lab International (Mexico's premier international pharmaceutical firm). She also provided counsel on various senior-level investor- and media-relations projects for domestic and international clients in both the public and private sectors.
The culinary school grad is also a chef, having worked at Jean Georges' Spice Market and Marc Murphy's Landmarc in New York City.  She also worked as a personal chef at the Playboy Mansion in Los Angeles, assisting the head chef with curating daily menus and logistical coordination for internal and client events; from small-scale executive lunches to large-scale client buy-outs including NBA, NFL, and ESPN.
 Apryl has also previously held her New York Real Estate salesperson license while she served as property manager for the city's leading real estate management firm, managing several newly constructed and newly renovated luxury Upper West Side rental properties.
 Apryl, whose active lifestyle includes yoga and hiking, is based in Los Angeles.